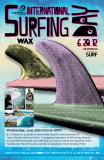 San Diego, California  –  The San Diego Chapter of the Surfrider Foundation is teaming with Paradise Point Resort and Spa and WAX Media to present the world premiere of the new Taylor Steele surf film, Here and Now, on Wednesday, June 20th from 6:00 to 10:00 pm at Paradise Point Resort and Spa at 1404 Vacation Rd.
In a unique "bring your own board" event, the resort is holding their first ever paddle-in movie where attendees will be invited to watch the movie on their surfboards from the main pool or enjoy the film poolside.  Complimentary beverages and snacks will be served, along with a suggested donation of $10 to the Surfrider Foundation.
Filmmaker Taylor Steele, a San Diego resident and the film's director, sent crews around the world to capture a day of surfing in 25 different locations during one 24-hour period to produce Here and Now.
Surfrider San Diego Chapter Coordinator Haley Jain Haggerstone says the film's visuals will impress the most ardent surfing film fans.  "The scenes and stories Taylor Steele has pulled together from around the world in Here and Now speak volumes to their commitment to the ocean and preservation of our beaches and waterways which Surfrider stands for," says Haley.  "The film Here and Now features some of the world's top surfers in some of the most iconic and pristine surf breaks from around the world," says Haley.  "This is precisely what we're trying to protect."
David Hall, General Manager of Paradise Point Resort and Spa says, "Our summer dive-in movies have been so popular that we decided in celebration of International Surfing Day we would add a new twist and combine the event to help raise awareness and funding for our local chapter of the Surfrider Foundation."
Beginning in 2005, International Surfing Day started with a handful of local observances in the U.S. to celebrate the sport of surfing, and has since exploded to more than 200 events in 30 countries worldwide.  In addition to catching waves on International Surfing Day, participants are also encouraged to give back to our oceans, waves and beaches. For additional information on International Surfing Day and event updates, visit http://isd.surfrider.org/.
WAX Media is a leading distributor of action and outdoor sports films, across the broadest and most advanced platforms available to the genre.  WAX distributes packaged media to thousands of retailers, holds contracts to air films across a variety of digital platforms, provides television video-on-demand content, and owns a proprietary, secure and global direct-to-consumer streaming platform athttp://onwax.com.