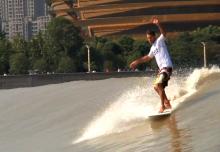 Wingnut aka Robert Weaver a legend in the surfing world ventures to China with friends Elverado "Pato" Teixeira, Curren Caples, Mary Osborne, and Chloe Calmon to ride an epic river wave in Hangzhou, China. The tide surging into the Quintang River is known for creating an amazing tidal bore ranging anywhere from 5-15 feet high. This surfing adventure was coordinated by Surfing China, Wabsono, and XTreme Video.
Thanks to Matt Wybenga! Download his film Sour Grapes Here for FREE: http://dangvu.com/2011/09/23/matt-wybengas-sour-grapes-free-download/
The X-Treme Channel features awesome extreme sports action from all over the world!
Subscribe To X-Treme Video on Youtube Here: http://goo.gl/7Vdr0 Website: http://www.x-tremevideo.com