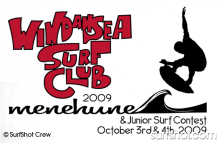 Join us down at the La Jolla Shores on Saturday October 3rd and Sunday October 4th
for the 2009 Windansea Surf Club Menehune Contest.

Check out some of the best groms in the San Diego area surfing in some of there 1st contests.
The Windansea Surf Club emerged in the early 1960's from a group of the most accomplished and free thinking surfers to be found anywhere in the world, and was named for the premier La Jolla reef break frequented by our earliest members. The Club was officially organized in 1962 largely by Chuck Hasley.