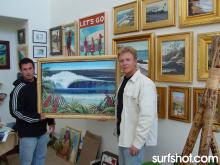 THIS GIVEAWAY HAS BEEN AWARDED
We are no longer accepting entries for this giveaway. Please look for recent giveaways in our Giveaways Page.
For more info on Wade Koniakowsky Painting's
click here!
The painting from Wade Koniakowsky:
When Claudia learned she was the winner at Surfshot, she was so excited that she bought a one-year subscription for her brother and another to her boyfriend.
Later she admitted she was sharing the membership with them…
Since Claudia works during the day, she sent her boyfriend Jaime to go claim the painting at Wade's house/studio. We just wanted to make sure the prize will be well enjoyed and Wade's art work will get a prime spot at their house.
We came along with Jaime to Wade's studio:
Surfshot: Jaime, we know you are here on behalf of your girlfriend. But since you guys live together this is like getting the painting for yourself, right?
Jaime: I can't believe we won this wonderful piece. I thought it would be just a little print, but this is awesome! And the framing is really cool too.
Surfshot: Now that you have the prize in your hands, what do you think?
Jaime: Well, I would like to congratulate Wade for his exceptional work. It is really amazing. And I would like to thank him for giving this prize away.
Wade: This is a very popular piece and people are thrilled when they see the image along with the framing. You are very welcome!
Surfshot: Wade, your house is also your studio. Is that right?
Wade: That's right! And I would like to extend an invitation to all Surfshot viewers and members to come here and check this collection with their own eyes.
Surfshot: Are you happy Jaime? Is there anything else you wanted to say?
Jaime: I love the piece and I am sure my girlfriend will love it too. Thank you Surfshot and thank you Wade.
Surfshot: Well, thank you for participating and thank you Wade, for your incredible work.