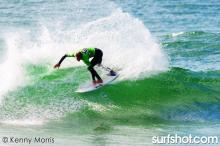 The second stop of the Blowfish Series went down under a sunny sky, with offshore winds and fun, chest high peaks at Oceanside Harbor. Just over 120 competitors showed up on the morning of Saturday, November 18 to throw down in the water, get dirty on the beach and stuff their face with Chipotle burritos. Even Volcom's East Coast event dude Daniel Terry showed up and got the groms fired up on some East Coast tactics.
The groms were looking cold and a little sleepy in the early morning hours, so we whipped them into shape with some Monster Energy drinks and had them reeking havoc on the beach in no time. In the final Dashel Pierson and Luke Rife opened up with some impressive scores and continued upping the ante. When the horn sounded to end the final, it was Taylor Clark edging out Dashel for the win. It was Taylor's first win and he was ear-to-ear smiles with his new remote control monster truck. He also picked up a Santa Cruz skate deck, a Vestal Watch and a custom, one of a kind Volcom trophy. Rounding out the final was Nick Rowe, Austin Rowe, Dashiel Pierson and JD Lewis in respective order.
The girl's division had some huge prizes at stake and more and more young girls continued to sign up as the morning progressed. After having to surf through two rounds to get to the final, it was clear that it was a top-notch level of competition in the girls final. Kristi Rife started out the final with an impressive score, but was quickly taken out by her board and sent to the hospital for some stitches. Get well soon Kristi. The other girls wasted no time taking over where Kristi left off. Jen Pollack and Tina Spadafora had it out 'til the bitter end, and when the final horn sounded Jen edged out Tina by half of a point to earned herself 1,000 valuable VQS points, a Dakine board bag and a backpack full of other loot. Marissa Shaw, Kristi Rife, CJ Soto and Cheyenne Arnold rounded out the final.
The junior's final was top notch with Daniel Blaze setting the pace early on with a 7.0 score. Matt McCabe sat close to the jetty looking for his lucky left-hand runners that had paid off in previous heats. Gabe Garcia also had a strong run throughout the day, but both Gabe and Matt couldn't stop Daniel's momentum as he took the win. He was blessed with a whole grip of goods for his victory including an H20 Audio waterproof iPod housing, a Sector 9 skate deck and a bag of other goods. Taking a respectable second was Matt McCabe, with Gabe Garcia, David Suhadolnik, Sean Bacon and Michael Berg rounding out the final.
The Pro-Am division had a stacked heat from the first round of competition in the morning. Sixty competitors battled throughout the day and ended with six in the final. With $500 on the line, the boys were extra fried up for the win. Justin Quirk, Josh Buran and Brandon Ragenovich had been flaring up all day and, as predicted, it came down to each trading blows in the final. Justin earned second place at the previous weekend's Starfish event, and, with Oceanside being his stomping grounds, was extra fired up. However, he couldn't fend off Brandon and Josh who were both equally as hungry. When it came down to tallying the sheets, Josh took the cash with Brandon a respectable second, Justin in third and Austin Ware, Zach Plopper and Scotty Hammonds rounded out the final.