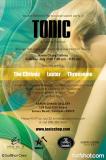 You are invited to the launch party of TONIC, by Lauren Otonicar!
When: Saturday July 25 7pm-9:30
Where: Aaron Chang Gallery
124 East Cliff Street
Solana Beach, Ca 92075
Complimentary hors d'oeuvres and delicous beats. Tonic supports the Life Rolls On Foundation, there will be product samples and hair shows.
Please rsvp by July 22 to rsvp@baybirdinc.com or call at 858.382.4922
tonicshop.com