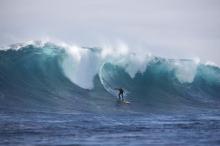 Since the Mavericks Surf Contest went off in epic conditions on February 13th, 2010, the Todos Santos Big Wave Event is the last remaining event of the Big Wave World Tour this season.

Californian surfer Greg Long still holds the lead of the Big Wave World Tour Ranking with two wins this season in Peru and Hawaii. Carlos Burle's 5th place at 25 foot plus Mavericks puts him in striking distance of the first ever Big Wave World Champion Title. Mavericks' winner Chris Bertish added valuable points to his BWWT tally, now 900 points behind the leader he is still capable of taking up the crown!

Set to unfold on the next big swell (waves exceeding 30 foot faces) the Todos Santos Big Wave Event is designed to be the grand finale of the Big Wave World Tour.

Surfers' representative Greg Long (tour leader since Chile) will have a home court advantage so-to-speak at Todos, as he developed and honed his big wave skills for more than a decade surfing Killers. BWWT #2 surfer, Brazilian Carlos Burle is also familiar with Todos. During the first ever competition in 1998, Burle mystified the international community by winning the event in gigantic 50-foot range surf. South African Chris Bertish, with the momentum of winning the Mavericks Surf Contest, will also be a man to watch during the Todos event. Chris won the paddle-in Swell.com XXL Award in 2001 for the biggest wave that year with a ride at Todos Santos, which he described as, "…the best big surf I have ever experienced."

The stage is set for a captivating finish of the first Big Wave World Tour season in the Mexican waters of Todos Santos.

The Todos Santos Big Wave Event is a grassroots event fueled by passion and is an official ASP International Charity Event. The jersey of the event's winner will be donated to Keep A Breast Foundation and will be auctioned to support KAB's mission to inform youth about breast cancer prevention.

Olukai footwear, Von Zipper eyewear, and Sector 9 skateboards have joined the event as supporting sponsors along Future Fins, Baja Bound Insurance, Surfline, and Linden Surfboards.

MEDIA CONTACT LORENE CARPENTIER - +1 760 712 8782
INFO@TODOSSANTOSEVENT.COM
www.todossantosevent.com