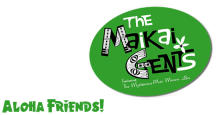 It's a beautiful summer and luau season is in full swing!
We'd love for you to join us for some island-style fun at the biggest tiki fest in the west, Tiki Oasis! This amazing event runs from Thursday, August 16 through Sunday August 19 in San Diego, California.
There will be live entertainment including lounge music, Hawaiian music (that'd be us!), burlesque performers, tiki carvers, artists, a tiki vendor marketplace, Iuka Groggs Ukulele Fantasy Camp, exotic cocktail lectures, etc, etc, etc. It's a three day GRAND party and should not be missed!
The Maikai Gents will be performing a free show on Thursday, August 16 at the Bali Hai restaurant on Shelter Island. This place is an island paradise with great tropical drinks and unbeatable panoramic views of the bay. We'll start the aloha at 8:30PM.

On Friday, August 17, we'll be performing at the Crowne Plaza Hotel in Hotel Circle (Mission Valley) as part of the ticketed Tiki Oasis Festival. It'll be a real humdinger of a weekend that'll be sure to get your hula skirt movin'!
More information, lodging packages, schedule and tickets can be all be found here:
www.tikioasis.com
.
Tell a friend. We look forward to seeing you there!
If you'd like to have our brand of old-time Hawaiian music at your own private luau or event, please drop us a line at
aloha@mkgents.com
Our CD, "
The Wiki Wiki Grog Shop
," makes a great musical backdrop to your tiki bar and backyard luau. It's available through
www.mkgents.com
. T-shirts, too!
Have a great summer! Aloha!
-Iuka Grogg for The Maikai Gents Featuring The Mysterious Miss Mauna Loa