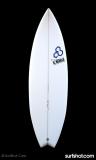 In landlocked neighborhoods a man's "whip" is his customized ride, his prized mode of transportation. Kelly's prized "Whips" for less than perfect surf during his 9th World Title run were his 5'10" x 18 5/8" and 5'8" x 18 7/8" x 2 5/16" swallow tails. Evident by Kelly's phenomenal start with wins at both Snapper and Bells, this design came alive and skated over the flat spots. This is Kelly and Al's re-worked version of the Flyer, with a few secret changes this board is faster and more forgiving. If you're looking for a board that excels when your shortboard seems to bog, this is the board for you.

Feedback : should be ridden 3-4 inches smaller than your shortboard, 1/4" wider, and the same thickness.

Designed For : everyday use by intermediate to expert surfers in knee to head high surf.
For more Info, Photos, and Videos visit our website: