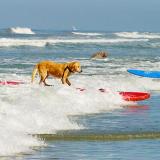 Swamis' Surfing Association, Guy Takayama Surfboards, Inc. and Helen Woodward Animal Center Team up for The Second Annual Surf Dog Surf-A-Thon September 9th From 8:30 to 12:00 At North Beach In Del Mar
What is a Surf Dog Surf-A-Thon?


A great family day at the beach for surfers and dog lovers alike.

This event will help raise awareness and money for orphaned pets while promoting responsible pet ownership


How does a Surf-A –Thon work ?

Participants will surf for one hour this can be done in shifts

Surfers are encouraged to get their friends to sponsor them by pledging money per wave they catch. (ie $1.00 per wave or $10.00 per wave)

Surfers will estimate the number of waves they think they can catch so they can collect pledges prior to the Surf-A-Thon

They will raise money by the number of waves they catch in one hour

This should encourage everyone to go out in the water and cheer each other on, and have a great time.
How do Surfers register?
Participants can register for the Surf-A-Thon either:
- On-line at SSA, HWAC or at participating vendor websites
- Or pick up registration forms at local surf shops and other participating locations
• HWAC will provide the registration forms
• HWAC will be on-site to collect registration fees and pledges


The funds raised will be used to support all the programs at Helen Woodward Animal Center.
For more info please visit http://surfdog.kintera.org
HWAC (Helen Woodward Animal Center Website)