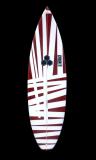 The MBM+ is an updated version the MBM. Working closely with team riders, Al modified the bottom contours to create the MBM +. All our team riders that were riding the MBM are now riding the MBM+ and achieving great results. Nathaniel Curran recently rode the MBM+ to victory at the US Open and the Lacanau Pro in route to qualifying for the 2009 WCT. It consists of a single concave bottom with flip in the tail. The MBM+ is an integral part of CI team riders' equipment.

Feedback : needs to be surfed vertically in the pocket.

Designed For : intermediate to expert surfers in waist high to well overhead waves. Can also be custom ordered as a quad or a Step-up board.
For more Info, Photos, Videos please visit our website.