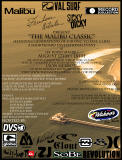 44 of the Best Surfers from Around the World to Compete at Historical 1st Point, Surfrider Beach in a Shortboard Invitational Event August 17 th and 18th, 2007.
Pascal Stansfield and Patrick Jensen of Freedom Artists, Skylar Peak and John Hildebrand of Sicky Dicky Productions, Seumas Santoro of Podium Dist., and Brandon Richards of ValSurf present the Malibu Classic to benefit 15 year old Point Dume surfer Lyon Herron.
The Malibu Classic is an invitational Pro/Am Shortboard surfing competition.
The contest will be held from 8:00AM to 6:00PM on Friday August 17th and Saturday August 18th at world famous 1st Point, Surfrider Beach, Malibu, CA.
Admission is $150 fee (Invite Only) and the contest is open to the public.
The contest will feature Malibu Legends, Honoraries, and Malibu Locals Celebrity expression sessions hosted by Jesse Billauer of the
Life Rolls On Foundation
.
Friday's competition will be followed by a private gala on the Malibu Pier from 7:00PM-10:30PM.
Saturday's competition will be followed by a concert open to the public at the Malibu Inn (22969 PCH, Malibu, CA). Performing live at the Malibu Inn
Shwayze
, professional surfer/musician
Tim Curran