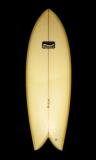 Our new traditional fish design developed exclusively with Joe Curren. The Even Keel comes standard with double foil wood keel fins and 6+6/4 layups that achieve ideal swing weight and momentum through turns. Joe's board of choice over 50% of the time at home or on the road.

Feedback : this board is incredibly fast and finds hidden pockets of speed on waves that elude your short board.

Designed For : novice to expert surfers in knee high to 2 feet overhead.
For more Info, Photos, Videos visit our website: