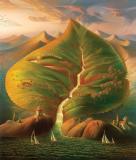 The celebration's main purpose is to amplify the participation and effectiveness of all cleanup and environmental educational efforts in Laguna Beach. A few of the entertainers are Jason Feddy, Nick "I"(Of the Common Sense Band), Rob Eller, Niki Smart, Poet John Gardiner (reading a few Trestles/ Anti-Toll Road and environmental poems). Click on sponsor pics below to sample a few. The overall goal is to feature the extraordinary learning tools available to the public on the www.HelpBlueWater.com website, to bring attention to the new year-round Clean Beach Terminal Program (Select "Clean Beach Terminals" in "Message" section on this website.) developed by HelpBlueWater.com so we don't have to wait for an organized cleanup effort to pickup trash left by others and to ensure celebration/pot-luck-goers leave with a heightened understanding of the important variables that affect all aspects of our ocean. Check back here on April 19th for a complete listing of cleanup locations. The after party/ "pot-luck" Celebration will be held @Aliso Beach from 1PM - Sunset. With the help of Zero Trash Laguna we hope Laguna will have zero trash on Earth Day.
Location:
Main Beach & Aliso Beach and more see below.
Aliso Beach
Laguna Beach, CA 92651
Get Directions!
Time: 8AM - Noon
---
Tickets:
| | |
| --- | --- |
| Pre-sale: | Pot-Luck item for Concert-on-the Beach? |
| Door Tickets: | Pot-Luck item for Concert-on-the-Beach? |