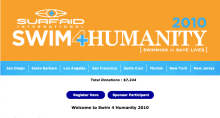 Olympic Swimming Star Caroline Burckle and SurfAid Founder Dr. Dave Jenkins Invite People to Swim to Save Lives in Indonesia- Coggan Family Aquatic Complex, La Jolla, March 13, 12:30pm -
**Indonesian Surf Trip awarded to the person who raises the most money!** Events held in California, Florida, New York and New Jersey March to May 2010
San Diego, CA – Swim4Humanity 2010 San Diego fundraising event will have top Olympic swimmer Caroline Burckle and SurfAid Founder Dr. Dave Jenkins participating to support SurfAid International, a non-profit humanitarian organization dedicated to improving the health, wellbeing and self-reliance of people living in isolated island regions of Western Sumatra. www.surfaidinternational.org
"I encourage people to sign up for Swim4Humanity and help fundraise with us! Together we can make the world a better place by stopping the needless suffering of children and families in these isolated communities," says Olympic bronze medalist Caroline Burckle, "and we get to help with this great work through participating in the sports we love like swimming and surfing."
The annual Swim4Humanity will take place in eight cities in California (San Diego, Malibu, Santa Barbara, Santa Cruz and San Francisco), Florida, New York, and New Jersey. Participants ask friends and family to sponsor them in a 30-minute lap swim, and may also choose to participate in a competitive freestyle lap swim and fun relay race. Participants win prizes for levels of money raised as well as for the fun relay and competitive swim races. SurfAid will give an Indonesian surf trip thanks to World Surfaris and Joyo's Surf Camp (worth $5,000) to the person who raises the most money! Swim4Humanity 2010 is now open for individual and team registrations. www.surfaidinternational.org/swim4humanity2010
"This event was a great success last year raising over $60,000 and we hope to raise over $100,000 this year to support our health and nutrition, water and sanitation, and emergency preparedness programs in Indonesia," says SurfAid International Founder, Dr. Dave Jenkins.
About SurfAid International - Celebrating Our 10th Anniversary in 2010 In 1999, physician and surfer Dr Dave Jenkins went on a surf charter to the Mentawai Islands, off Sumatra, Indonesia. The surf proved to be everything he had hoped for but he also found the Mentawai people suffering and dying from preventable diseases. Dave found that he was unable to just walk away. It was a defining life moment. He sought support from like-minded individuals and went on to establish SurfAid International in 2000.
SurfAid's mission is to improve the health, wellbeing and self-reliance of people living in the Mentawai and Nias islands, where it runs water and sanitation, disaster preparedness, and health programs. With the support of the New Zealand and Australian Governments, the global surfing and wider community, and most importantly the Mentawai and Nias people of the affected areas themselves, SurfAid has come to exemplify the healing power of cross-cultural partnerships.
About Caroline Burckle Caroline's career highlights include 2008 Olympic Bronze Medalist in 800 Free Relay, American Record Holder, NCAA Record Holder, 3-Time NCAA Champion, 2008 Honda Sports Award Recipient, 2008 NCAA Swimmer of the Year, Gold Medalist 2007 Pan American Games, Gold Medalist 2005 World Championships, 23-Time NCAA All America. Caroline is from Louisville, Kentucky and lives in Newport Beach, California.

###


--
Javier Guerrero
Director of Development
SurfAid International, USA
530 Second Street
Encinitas, CA 92024
Phone: 760-753-1103
Fax: 760-487-1943
javier@surfaidinternational.org
www.surfaidinternational.org