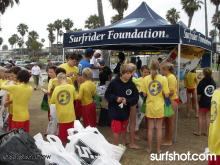 July 6, 2009 – San Diego Today
650+ volunteers picked up over 2,000 pounds of trash and 24,000
cigarette butts that were left behind from the 4th of July weekend
celebration. Surfrider Foundation San Diego County Chapter and
Sun Diego Boardshops sponsored the 6th annual "Morning After Mess
Cleanup Day" in order to cleanup litter and raise awareness about the
state of the beaches following the holiday.
"I was pleasantly surprised when I got to the
beach this morning and saw the limited mess that was left behind
compared to some years in the past. There was still plenty of work for
the volunteers but they were focusing on smaller items than usual. The
Cities and State Parks generally do a good job keeping the beaches
clean but we really need and appreciate the volunteer support after big
weekends like this one." said Bill Hickman, the Surfrider Foundation
San Diego Chapter Coordinator.
Hickman added; "One darker
note is that we found more cigarette butts than usual, over 24,000 of
them. The smoking ban is helping to keep the beaches clean of but
volunteers were finding lots of butts by the beach access points.
Please remember to 'Hold On To Your Butts' and 'Respect The Beach'!
Cigarette butts are a concern because the filter is often made from
plastic and plastic does not biodegrade. Some of the unusual items
found today include a bra, car tire (complete with rim), a US flag,
lots of marshmallows in Ocean Beach and a broken barbecue set hidden in
the Mission Beach bushes."
There
were five different cleanup sites throughout San Diego County: OB Pier,
Mission Beach/Belmont Park, PB Drive in Pacific Beach, South Carlsbad
State Beach and Oceanside South Harbor Jetty. Local environmental and
citizen based groups such as San Diego Coastkeeper and I Love Clean San
Diego helped organize each site. "We are encouraged by the enormous
success and we hope our educational message has a lasting impact" said
Bill Hickman. The Surfrider Foundation is happy to be part of the San
Diego Clean Beach Coalition that helped provide more cardboard trash
bins for the beach.
In addition the to "Morning After Mess", the San Diego Chapter conducts beach cleanups on the 2nd , 3rd and 4th Saturday of
every month.
To view the beach cleanup scheduled for 2009 visit the Chapter's website: http://www.surfridersd.org/beachcleanups.php
For some photos from the cleanup and weekend please visit:
http://www.flickr.com/photos/surfridersandiego/sets/72157620886007663/