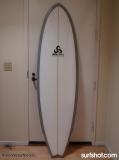 Solana Surfboards is offering our quad fin fish surfboard for sale for only $350 brand new. This board has enough volume to easily paddle into smaller surf, but the double wing swallow tail makes it really fast down the line. It comes with a set of Future Vector 2 fins and the board has a glossed & polished glass job. The board in the photo is our 6'6 with charcol rails, but we have some different airbrush designs and sizes in stock as well.
6'6 x 21.5 x 2 3/4
Our showroom is in PB if you want to set up a time to come by and look at some boards....
858 876 0123 or email
Also, check out our surfboards for sale on our website !!!