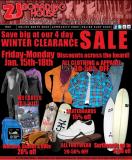 2619 Main St. Santa Monica, CA
Friday, Jan. 15th - Monday, Jan. 18th
10am-7pm Fri, Sat, Mon. 10am-6pm Sunday
Get killer deals on all the best surf & skate clothing as well as all the gear over the Martin Luther King weekend at ZJ Boarding
House. All clothing is 30-50% off, all footwear is 20-50% off. Save up to $100 on surfboards. The whole store is 15-50% off over 4 days! Don't miss it.
http://www.zjboardinghouse.com/wintersale.html

About ZJ Boarding House
ZJ Boarding House has been the premier surf & skate shop in Southern California since 1988. We carry only the best, high quality brands and products. Satisfy your soul.
We participate in many community events that promote surfers, skaters, musicians and anything to keep the stoke alive!