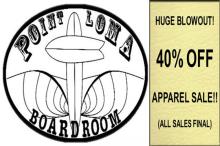 Dear Boardroom friends & family,


The Point Loma Boardroom will officially close its doors on Friday, Feb. 26th.
First and foremost, I would like to personally thank all of you for your support in my
surf shop endeavor.


One of the most satisfying memories I will take with this experience, is the incredible people that I have met while doing business at my little surf shack. I am also very grateful to have had the opportunity to sponsor the schools and athletics in our community.


I will be offering some of our 'staple' products at our online store (plboardroom.com) moving forward. The online store will enable me to continue to support and promote education and athletics in Point Loma and Ocean Beach.


During the final week of business, we are offering 50% off apparel, and 30% off on sunglasses, watches, sandals, Matuse wet suits, & several other accessories.


Please feel free to come down and shop, or just hang out on the bench! : )


Sincerely,


Nate Cintas