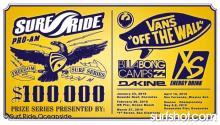 The Surf Ride team has pulled out all the stops for the $100,000.00 Freedom Pro-Am Surf Series by Vans.

This 5 event series features a Pro-Am division with the winner taking home a cool $5,000 for first place at each event and a shot at $20,000 for the season championships.

Running along side the Pro-AM division will be the Da Kine Family Divisions where winners & finalists will receive thousands of dollars in Surf Ride store gift cards per event. All Participants receive a hefty welcome backpack stuffed with over $150 worth of surf gear compliments of our sponsors.

Also Featuring:

-ASP trained/computer Judging Dragon Optics
-Weenie roast and Family style BBQ by Vans
-Surf Board Demo Center by Surf Ride
-Huge Raffles and Freebies galore -Billabong Camps
-Proceeds benefit the Camp Pendleton Kids Surf Club- XS Energy Drinks

"The goal of the Freedom Surf Series is to produce a stellar surf event with significant cash and prizes as well as provide for a worthy cause, our local military kids. Thanks to the generous support of our sponsors we're looking forward to an exciting season." Event Director Chris Williams

On- Line Registration is now open for the January 23rd event at Seaside Reef

Visit the Freedom Surf Series site at FREEDOM.SURFRIDE.COM to sign up
and get all the details.

About Surf Ride

Starting as a seedling in the 1970's, Surf Ride has grown from the ground up, sprouting first in Oceanside, and branching out to a second location in Solana Beach. With both store fronts rooted along the Pacific Coast Highway, Surf Ride is committed to providing our customers with as many product choices as possible. From the Ocean to the Streets, our vision is to get everyone as stoked on riding the elements as we are. To keep up with the rise of the internet world, our team has developed an online shop, providing product to your doorstep with the click of a button. We hope to see you soon.
Surfride.com

About Vans

Vans creates footwear and apparel for boarders the world over. In 1966, the Van Doren Rubber Company opened up for business in Anaheim, CA. Vans' simple canvas shoes soon became a staple at the beach and throughout Orange County. In the mid Seventies, the first skateboard-specific shoe, the Era, was born. Within a few years, the Vans Sidestripe came to represent a look that still epitomizes the SoCal surf and skate scene. While you're just as likely to see a pair of Vans Classics on the streets of Berlin, Rio or Tokyo as you are in
Anaheim, you know that 40 years of Southern California soul are behind them.

Vans supports and promotes surfing through a full line of surf
footwear and apparel, events such as the Vans Triple Crown of Surfing™ and through sponsorship of many of the world's top surfers such as Joel Tudor, Timmy Reyes, Karina Petroni and Nathan Fletcher.