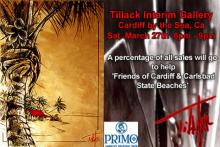 Gallery will also be operating both Friday 26th and Sunday 28th – from early afternoon to 8pm

*Call 619 886 5226 for more details or visit


www.PeteTillack.com

This coming weekend in

Cardiff

by the Sea, Ca. Pete has created the Tillack Interim Gallery.
The Gallery will be open the early afternoon to 8pm Friday 26th thru to Sunday the28th of March while Saturday night, the 27th, between 6pm-9pm, will be refreshments and live music from fellow aquatic/artistic friend Erich Blase & Mr. Mike (a ukulele/bass/guitar duo) as we will have a perfect view of the sun going down over the spectacular Cardiff Reef and the San Elijo State Beach Park.
There will be new work to highlight the event along with onsite specials.

A percentage of all sales will go to help 'Friends of Cardiff & Carlsbad State Beaches' a group that was formed to protect and preserve the local coastal parks and beaches that have been left to deteriorate and become run down due to loss of finances. The San Elijo State Beach Park is one of the first concerns as it has been heavily deteriorated via the last high tide and storms to the point of causing danger to the summer crowd that are about to descend on our coast.
Tillack Interim Gallery
111 Chesterfield Dr
Cardiff By The Sea, CA 92007
*next to 7/11
Map
main event
Saturday 27th of March 6pm - 9pm
also operating the afternoon of 26th to the 28th
*Call 619 886 5226 for more details
or visit www.PeteTillack.com

Event sponsored by PRIMO