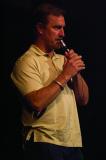 Through the enormous glass windows of his Prospect Street office in La Jolla you can see Jon Sundt's home. Naturally your eyes start to trail down the cliff to Blacks breaking just below his house and then along the La Jolla coastline from Scripps Pier to the Cove, directly in front of his two billion dollar investment firm. Jon gestures to the left, towards his staff of men and women in suits and ties busily turning money into more money and says with honesty, "All of this means a great deal to me, but there is nothing more important than the foundation - the Sundt Memorial Foundation."
At night Jon says that he can hear the waves at Blacks when his bedroom window is open. This relationship he has with the ocean, intimate and entirely personal, goes far back, back to his days as a Coronado High grad moving to La Jolla at the age of 17 and surfing to his heart's content. It was the 70s, a time when he and his two brothers, Steven and Eric, were a trio of blonde kids thriving in a San Diego that can only be brought back now through nostalgic conversations.
Sadly, now the same is true for the brothers of Jon Sundt. While swells of the Pacific captured Jon's heart and soul, drugs cheated Steven and Eric from their family and friends. Younger brother Steven succumbed to a cocaine overdose in the backseat of a police car and older brother Eric took his own life due to a depression from drug use.
Watching the dirt fall on a casket of another brother sparked a fire deep in Jon, forming a resistance. It created a hunger to fight against whatever it was that was pilfering lives for useless reasons, but the source wasn't simple to find. To understand the source of the problem you first have to understand the 70s, an era when drugs felt as natural in your hand as a cell phone does now. Everyone got high, no issues or consequences were involved. Adults used, kids used, and rock stars were drowning in it. The heroes of Jon and his brothers consisted of musicians, movie stars, and famous athletes, not unlike the kids today. However they smoked, snorted, and injected heavily and certainly not behind closed doors. The youth of the time ate up the ideal like Flintstones Chewables, thinking drugs didn't hurt – they helped.
Jon survived the plague through the natural high he found in the surf and he knew there were tons of heroes who were operating under the same drug-free vibe. Thanks to the creation of the Sundt Memorial Foundation, a growing list of athletes, musicians, and celebrities now has a platform to convey the natural high message to the youth. The last DVD, Natural High 2, reached 114,000 middle schools, which translates to every single middle school in America. The cast of Tony Hawk (host), Laird Hamilton, Travis Pastrana, Ricky Carmichael and many more represent the potential of a drug-free life. The film contains footage of the athletes dropping in on 40-foot faces or doing no-handed back flips on motorbikes while personally speaking about the clean lives for which they are grateful. "The film sends a simple message about life without drugs," Jon illustrates, "the consequences are not death, but life."
Roughly 31 million kids have seen the Natural High videos, all for the price of a very short Super Bowl ad. The Sundt Memorial Foundation is alive and operating due in part to fundraising, donations, and two very appreciated staff members. Jon, of course, is its biggest advocate and supporter, both financially and physically. Through the foundation Jon has put together surf contests, dinner/auctions, school assemblies, sponsorship, and, he confesses, "It's pretty expensive to be my friend."
There is proof that the Sundt Memorial Foundation is making a change; teachers often provide Jon with ecstatic phone calls, teenagers email with stories and thanks and, best of all, kids are stealing the DVD from school – quite a compliment that speaks to the quality and impact of the DVD series. "Let them have it!" Jon says in reaction to the thefts, "We'll get them more!" The cost to send the DVD is the same as the price of a cup of coffee, but with the bar set at reaching every school in the country, funding is always in demand. Natural High 3 featuring P.O.D. and Switchfoot is ready to make its debut and deliver the positive message of a drug-free life that will reach every middle school kid in America.
To find more information about the Sundt Memorial Foundation, go to www.SundtMemorial.org or www.drugfreewave.com.