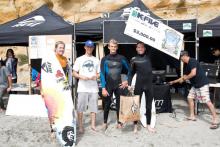 D Street in Encinitas offered challenging conditions to the field of surfers on Memorial Day Weekend
ENCINITAS, Calif., (May 31, 2011) – K5 Boardshops hosted the 4th Annual K5 Pro/Am Surf Klassic, presented by Volcom, Lost, Nixon, Reef, SPY, Dakine, Transworld Surf, and grombomb, this past weekend with overhead sets at D Street in Encinitas, CA with Santa Barbara standout Spencer Regan taking top honors claiming the $2000 prize money.  $2000 was also donated to the Boys and Girl's Clubs of San Dieguito.
With summer kicking off on Memorial Day weekend, a SW groundswell filling in, and a field of 48 surfers from all around, K5 Boardshops took over the shores of D Street.   Booths setup by the sponsors had fans and beachgoers alike stoked as they were giving away prizes all day along side of the amazing surfing in the water.  The field of 48 had names like Austin Ware, Sean Marceron, Travis Beckmann, Brad Ettinger, Teddy Navarro, Anthony Petruso and Darrel Goodrum.
Spencer Regan dominated his way throughout the day winning every heat which landed him into the Finals with Austin Ware, Travis Beckmann and Chase Wilson (who made it to the final after surfing two consecutive 20 minute heats including the Do or Die round to make it into the Final). Instant scoring, provided by Beach Byte, allowed the competitors in-heat up-to-the second scoring updates from the ASP judges.  The swirly conditions on the inside made it a challenging paddle out making the surfers change their strategies, as they could not really watch each other in the water.
As the heat started, all four of the surfers were throwing down a no -holds barred attitude.  Airs, gouges, fans…they all threw down.  Ultimately, Spencer Regan was crowned the 2011 champion and took home the $2,000. Local standout Austin Ware claimed 2nd place ($1,000) and Travis Beckmann, who punted a huge clean air reverse in his first heat giving him the claiming rights to the Best Air Award of $500, finished 3rd ($500) in the Finals.  Chase Wilson finished a well-deserved 4th place and grabbed $250 for his efforts.
"We would like to thank all of the surfers and sponsors for a great turnout at this year's event!" stated K5 Boardshop's Jurgen Shulz.  "K5 Boardshops is also excited to be able to help the Boys and Girl's Club of San Dieguito with a donation of $2000."
Final Results
1st Place Spencer Regan $2000.00
2nd Place Austin Ware  $1000.00
3rd Place Travis Beckmann $500.00
4th Place Chase Wilson $250.00
Best Air Travis Beckmann $500.00
Go to K5.com to see the final heat results and scores from the 4th Annual K5 Pro/Am Surf Klassic as well as view photos from the event.  We will see you next year!
About K5 Boardshops
K-5 Boardshop has been selling Quality Surf, Skate, and Snowboarding Boarding Equipment since 1987. K5's first location is located five kilometers from the coast (K5). That's where the K5 comes from. If you're ever in the San Diego area, come check out one of our three retail locations. We have two 10,000 sq ft stores. The original in Encinitas, one in Poway, and the new 8,500 sq ft Paddle Surf Shop in Oceanside, CA. Products are available online at www.K5.com
Locations:
K5 Boardshop Encinitas
280 N. El Camino Real Encinitas, CA 92024
(760) 436-6613
K5 Boardshop Poway
12630 Poway Road Poway, CA 92064
(858) 679-6822
K5 Paddle Surf Shop Oceanside
525 S. Coast Hwy Oceanside, CA 92054
(760) 754-1982
###