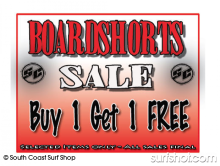 B.O.G.O. Sale on Summer Boardshorts is Back!
That's Buy One, Get One for all you newbees...
When: This Saturday only, September 20th 2008 (from 10am-6pm)
Where: South Coast Windansea and South Coast Ocean Beach
What: BOGO on Spring and Summer Boardshorts! There's a ton of 'em... Get there early!
*Not valid with any other offer.
*Valid for select merchandise only.
*No layaways.
*See store for details.