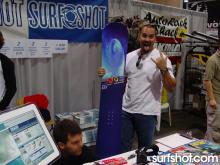 THIS GIVEAWAY HAS BEEN AWARDED
We are no longer accepting entries for this giveaway. Please look for recent giveaways in our Giveaways Page.
To learn more about
Snow Jam
, the sponsor of this giveaway,
click here!
Eric Jackson, the snowboard winner
We sent Eric a message about his prize and he didn't believe.
What? I won the snowboard? No way!!!
Eric was very stoked to get that board and we actually had the official pictures taken at the Snow Jam festival, in Del Mar.
He showed up at the show ready to get all the other gear he needed to take that board to the slopes…
Surfshot: Eric, you won the board! What you have to say?
ERIC: I don't believe it! I had never been a lucky guy but things were different at this time…
Surfshot: There were quite a lot of entries for this board and you "beat" everyone. Are you ready to do the same in the slopes?
ERIC: Oh! I am so ready! In fact, I had to buy a new board anyway and it is amazing I won this. So now I am going to use the cash I had to upgrade all my gear.
Surfshot: Perfect! And there isn't a better place for that than the Snow Jam
ERIC: That's right! I am going out right now to take advantage of some of the incredible deals they have here.
Surfshot: We wanted to make sure you are stoked with your prize and that every time you will hop on a lift, you will remember us.
ERIC: Stoked! You have no idea! And yes, I will always remember that and if anyone asks me about this board I will definitely mention Surfshot. You guys are great!
Surfshot: Congratulations and enjoy your board.