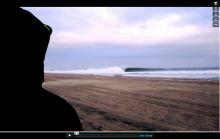 Many of you may have seen this amazing draining left hand barrel on the cover of Surfing Magazine a couple years back. The wave is called Skeleton Bay and is truly one of the most isolated waves in the world. How isolated you ask? Try a drive through the desert for a couple days just to get there and make sure you have enough water to survive. Not to mention God forbid you get seriously injured there, with absolutely nothing around to drive too. Oh yeah make sure to take good notice of the almost 1000 seals on the beach in the video. haha. where there are seals in Southern Africa there are Real Big Fish in the water too. But honestly who cares because most surfers would 100% go to those extremes at a chance to catch barrel rides that last 10, 20, 30 seconds and a wave that extends for several hundreds of yards.
The French Connexion are pro surfers Marc Lacomare, Joan Duru and Charly Martin. They are a group of young European surfers that are traveling the globe exploring some hard to reach waves. To learn more about the French Connexion please support and visit their website - http://www.french-connexion.tv/
Shot & Edited- Jimmy Graham/FMG
Additional Footage- Jason Hearn
Song- Mt Eden Dubstep - Sierra Leone
Africa from French Connexion on Vimeo.