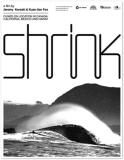 Shrink, aptly named for the condition that plagues the unmentionables of cold water surfers, documents the lives of brothers Sepp and Raph Bruhwiler and Peter Devries, three professional Canadian surfers from Vancouver, British Colombia. These guys put up with conditions that make our two-week cold spell in January look like a tropical paradise. Paddling out while it is snowing is not something the faint of heart can tolerate, but this video shows that their undying dedication pays off when the surf starts pumping.

Surfing quality- 4.5 out of 5- Anybody who thought that these Canadians were only famous because they have cool backdrops in Canada will be surprised to see how well they surf. Their surfing would be considered top notch in any part of the world, and somehow they manage to pull big gouges and airs while being restricted by 6mm wetsuits.

Waves- 4.5 out of 5- There aren't any huge Mavericks-style waves, but there are a couple of heavy slabs that look like The Box in West Oz. They also go to Hawaii and Mexico to let their bodies recover from the cold and show the rest of the world what Canadians have to offer.

Style- 5 out of 5- This is a movie that I could watch repeatedly. It uses high quality footage, incorporates beautiful nature shots, and tells a unique story. The video has some elements of a documentary but limits them so that the video maintains an upbeat and exciting flow. Shrink is a beautiful video; its original, artistically-driven format is a perfect compliment to the serene landscape that is a characteristic of Canadian surfing.
Music- 4 out of 5- The soundtrack is not music that I would normally listen to, but it fits perfectly with every section. The music consists of raggae jams, uptempo jazz tracks, and some trance beats charged with energy.