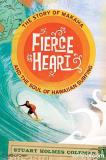 Literature News
Shaun Tomson and Stuart Coleman embark on book tour
Surfersvillage Global Surf News, 5 June, 2009 : - - Stuart H. Coleman's new book Fierce Heart: The Story of Makaha and the Soul of Hawaiian Surfing was just released nationally by St. Martin's Press. The author will be traveling across Southern California to do signings with world champion surfer and Surfrider Foundation board member Shaun Tomson, who will talk about his new book and film Bustin' Down the Door.
The pair will also be working with the Surfrider Foundation to do signing parties to benefit local chapters and their continued efforts to protect our oceans, waves and beaches. "I started surfing when Shaun won the world championship in the late 70's, and I was in awe of him," Coleman says. "After writing about Shaun in both of my books, I'm stoked to be going on tour with him!"
FIERCE HEART is the biography of a people and a place that represent the heart of surfing and Hawaiian culture. The small town of Makaha on Oahu's Westside has produced Hawaii's biggest icons and some of the most talented surfers in the world:
Hawaiian watermen like Buffalo Keaulana and his sons Rusty, a world champion surfer, and Brian, an accomplished lifeguard, big-wave surfer and Hollywood stuntman; beautiful surf goddesses like Rell Sunn, Hawaii's first female lifeguard and professional surfer who was known as the "Queen of Makaha"; and musician Israel Kamakawiwo'ole, who eventually became the biggest artist in Hawaii and the voice of the Hawaiian Sovereignty movement.
Like shooting stars, Rell and Iz blazed a bright trail across the sky, but their lives burned out too soon. On the 50th anniversary of statehood (and Israel's birth), FIERCE HEART chronicles the history of Hawaii's wild Westside and the enduring legacy of its leaders.
BUSTIN' DOWN THE DOOR is about a group of young surfers from Australia and South Africa who risked it all to revolutionize the sport of surfing and create an industry that is now worth billions of dollars. With a radical new approach and a brash colonial attitude, these surfers helped create a professional world tour but crashed headlong into a culture that was not ready for revolution.
Shaun Tomson was one of those pioneering surfers who changed the sport forever, and he went on to become a successful pro surfer, businessman and environmental leader with the Surfrider Foundation. His new documentary and book BUSTIN' DOWN THE DOOR describes surfing's coming of age and captures the spirit of this tumultuous time period with all of its danger, beauty and pure excitement.
Stuart H. Coleman is the author of the award-winning book Eddie Would Go and has written for numerous publications, including Men's Journal, Salon.com, Sierra Magazine, Surfer's Journal and The Washington Post. Coleman works as the Surfrider Foundation's Hawaii Regional Coordinator.
BOOK SIGNING & PARTY SCHEDULE
1. Sat., June 6, 2:30pm, Borders Books, 2110 Bellflower Rd., Long Beach, CA 90815; James Beaven, Man., 562-799-0486.
2. Tue., June 9, 6:00-8:00pm, Bare Back Grill, 624 East St. (downtown), San Diego, Signing Party with San Diego Surfrider Chapter; P.J. Lamont, owner of Bare Back, 619-944-6726.
3. Wed., June 10, 7:00pm, Borders Books, 1072 Camino Del Rio North, San Diego, CA; Gail Krippelmeyer, GM, 619-295-2201.
4. Fri., June 12, 6:00-8:00pm, Henessey's Rest., Dana Point, CA; Signing Party with Surfrider's South OC Chapter.
5. Sat., June 13, 2:00pm, B&N, 7881 Edinger Ave. #110, Huntington Beach, CA;
Jeanne Ferrara, CRM, 714-897-8781.
6. Sat., June 13, 4:30-6:00pm, Duke's Rest., 317 PCH, Huntington Bch, CA; Brett Barnes, GM, 714-374-6446; Signing Party with Huntington's Surfrider chapter.
7. Mon., June 15, 7:00pm, 33 Jewels Rest., 814 State St., Santa Barbara, CA, 805-957-9100; Signing Party with Santa Barbara's Surfrider Chapter.
8. Tue., June 16, 5:00-6:30pm, Borders Books, 900 State St., Santa Barbara, CA; Ryan Thomas, GM, 805-899-3668; Meet up with JUNK Riders Marcus Eriksen & Anna Cummins in SB, Cabrillo Pavillion, 6:30-8:00pm.
9. Wed., June 17, 7:00pm, Duke's Rest., 21150 PCH, Malibu, CA; Josh Morgan, GM, 310-317-0777; Signing Party with West LA/Malibu SR Ch.
Early Reviews of Fierce Heart
"Fierce Heart is a powerful tribute to the Queen of Makaha. The stories in the book capture my mom's spirit of aloha and her dedication to helping others. At the Rell Sunn Educational Fund, we are committed to continuing her legacy, and this book will help keep her spirit alive for years to come." -- Jan Sunn-Carreira, Rell Sunn Educational Fund
"Fierce Heart is a memorable collection of stories about a unique place and a cast of characters that truly define modern Hawaiian culture and the spirit of aloha." -- Shaun Tomson, author of Surfer's Code & Bustin' Down the Door
"Be warned, this edgy, fast-paced book is like surfing a Makaha wave - once you take off, there's no turning back - once you start reading Fierce Heart, you will be unable to put it down. Fierce Heart's wisdom will linger with you for a very long time, and you will never look at your own life the same way again." --Sandra Kimberly Hall, author of Duke: A Great Hawaiian