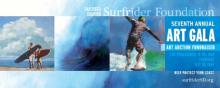 Beautiful art, fine food and drink, and coastal conservation will combine in a picture perfect setting when the San Diego Chapter of the Surfrider Foundation hosts its Seventh Annual Art Gala, 6 p.m. to 10 p.m., Thursday, May 10 at the Del Mar Powerhouse, 1658 Coast Blvd. in Del Mar.

The environmentally inspired event will include silent and live auctions of ocean-themed artwork from renowned local and national artists, such as Bruce Brown, Ned Evans, Wade Koniakowsky, John Moseley, Tony Spineto, Jeff Yeomans, Shannon Payne McIntyre, Don Doerfler, Sterling King and Susie Ferry.
Live auction items will also include a private surf session with Rob Machado, and a custom board created and painted by Joel Tudor.
Attendees can also bid on surf trips and gift packages, and all guests will receive an environmentally friendly gift bag. Food from restaurants throughout San Diego County will be available, as well as fine wine and San Diego's best beer from Stone Brewing Co.
A very special guest at the event will be World Surfing Champion Shaun Tomson, who will sign copies of his new book, "Surfer's Code." The evening's program will also include awards for contributions to protecting the coastal environment, speeches by environmental leaders, a slide show and music.
Proceeds from the art gala's ticket sales and auctions will benefit the San Diego Chapter of the Surfrider Foundation, helping fund the group's local programs including water quality testing, education outreach, beach cleanups, pollution monitoring and advocacy efforts. Last year's event raised more than $25,000 for the organization.
Tickets for the art gala are $75 for a single ticket and $140 for a pair of tickets. Tickets to this exclusive event are limited to the first 150 people who purchase them. Tickets can be purchased online a www.surfriderSD.org.