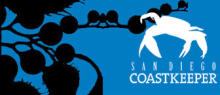 SD Coastkeeper is always looking for members of the community who are interested in getting involved with gathering data to improve and protect the surface waters of San Diego. There are two main ways to get involved:
Observational Monitoring: Are you a regular visitor to certain urban hiking trails in San Diego County? The Observational Monitoring program involves filling out a form and mailing it or e-mailing it to our offices providing a physical description of the waterway.
Water Quality Monitoring: If you are interested in collecting water quality samples and taking basic water chemistry measurements on a regular basis as a volunteer for SD Coastkeeper, please send an e-mail to schedule for a training and join our team of surface water quality volunteers
Important Note:
Space is limited to volunteers who have previously completed citizen water monitoring training with Coastkeeper. Please RSVP one week in advance so that we can make preparations. Future trainings will be advertised by email and through our website.

Water Monitoring Training
Water Monitoring Training is available once a month on the following dates. The location rotates between the San Diego Coastkeeper office in Point Loma (PL) and a North County location (NC) which is still being determined. Please email Lillian at lillian@sdcoastkeeper.org for more information.
When: Saturday, November 17th

Time: 9am - 2pm
Where:
North County (Lake San Marcos) and South County (Point Loma)