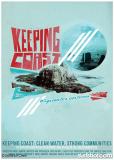 Film News
Save The Waves film receives Dumosa Award at Cottonwood Creek Environmental Film Festival
Surfersvillage Global Surf News, 9 June, 2009 : - - Davenport, Ca -- Save The Waves Coalition and Cottonwood Creek Environmental Film Festival are proud to announce that Keeping Coast, the latest documentary film by Save The Waves, has received the Dumosa Award for Best Short Film at the Cottonwood Creek Environmental Film Festival.
The festival screened the film and presented the award this past weekend in downtown Encinitas, California at the historic La Paloma Theatre. "We love the engaging message of Keeping Coast," announced festival jury chair Elizabeth Taylor who presented the award in a ceremony on Friday night, "and we are excited to reward its inspiring environmental message to protect our coastlines."
Writer of the film and Save The Waves environmental director Josh Berry was present at the awards ceremony in Encinitas to accept the award on behalf of his friend and film director Angel Marin, and for Save The Waves Coalition. "I'm stoked we won – when you see the film you will understand why, but for now just remember my mantra: film as activism," said Josh Berry, "and many thanks to the festival for producing such a great event to raise environmental awareness at the local community level."
Keeping Coast is a 15-minute documentary film about Save The Waves Coalition's community activist work in Chile and its efforts in co-founding Chile's first Waterkeeper Alliance program, the Maule Itata Coastkeeper. The film chronicles local efforts against a proposed coal plant and other development issues presently threatening a pristine stretch of coastal waters in rural South America.
The film premiered at Adventure Film Festival in Chile in March of 2009, and will be screening at other festivals in coming months, including: World Oceans Day Film Festival this week in San Francisco; Surfilm Festibal in San Sebastián, Spain; the Wild and Scenic Film Festival Tour; and others to be announced soon.
Film trailer, screening information and synopsis can be viewed at keepingcoast.blogspot.com
About Save The Waves Coalition: Save The Waves is an environmental coalition dedicated to preserving the world's surf spots and their surrounding environments. The organization's goal is to preserve and protect surfing locations around the planet and to educate the public about their value. Save The Waves works to prevent coastal development from entering the surf zone. Save The Waves is a 501(c)3 nonprofit. savethewaves.org
About Cottonwood Creek Environmental Film Festival: The Cottonwood Creek Environmental Film Festival aims to collect the most innovative and inspiring films regarding environmental issues, nature and the ocean. The CCEFF mission is to use film to inspire positive action on behalf of the environment and encourage stewardship of the planet: cottonwoodfilm.com