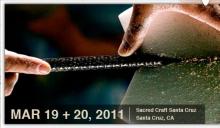 EXCITEMENT BUILDING FOR SACRED CRAFT
Big swell hitting, Drew Brophy TV Series, Warshaw book signing and The Future of Surfing Collective added plus... we launched our new website!
Lots of  new excitement percolates around the upcoming Sacred Craft Consumer Surfboard Expo presented by Santa Cruz. A late winter low pressure is pushing big surf into Northern California just in time for the weekend surfboard festival. Forecasters are predicting waves up to 15 feet, on Thursday, March 17 with plenty of leftovers for the weekend.
Authentic culture that flows from the surfboard is a mainstay of the expo.  A handful of unique exhibits take center stage alongside the world's greatest surfboards. The mainstay of the expo, the Tribute to the Masters Shape-off; honors Doug Haut and is presented by US Blanks. Plenty of live shaping, glassing, art, music, history, food and PRIMO beverage.
Sat. March 19th Noon to 1:00 p.m.:  Drew will give a Graffiti-style painting demonstration and will show how to customize your own surfboard with a few cans of spray paint and stencils.  Demonstration will be held at the Surf Aid Shaping Bay.
Sun. March 20th Noon to 1:00 p.m.: Drew demonstrates his medium of choice, Uni-Posca paint pens, on surfboards.  He will share tried and true techniques and will discuss preparation, composition, color blending, and sealing. Brophy will discuss how you can have a viable career painting surfboards, and how retailers can increase sales with surfboard art.  Bring your questions!  This demonstration will be held in Drew Brophy's booth #B8.
WHO: Surfers, Shapers, Designers, Craftsman, Manufacturers. WHAT: Surfboards and the culture that flows from them. WHEN: March 19 and 20, 2010; Sat. 10am-6pm; Sun. 10am-4pm WHERE: Rittenhouse Building, downtown Santa Cruz. WHY: Because surfers really only care about two things; waves and the equipment to ride them with. HOW: $10 at the door (U12 free) includes SURFER magazine subscription and door prizes including surfboard giveaways.