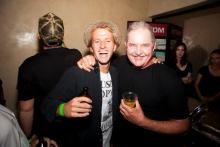 Last night, Rusty's Josh Kerr, along with 500 friends and fans, celebrated Kerr's new surf film, Kerrazy Kronicles, with a full house at the Lido Theatre in Newport Beach.  The film, mostly shot during sessions in 2010, followed Kerr and other surfers to all corners of the globe, including his home in Queensland, as well as Hawaii, Bali, Southern California and the Caribbean, among other spots.  The film also featured clips from Josh's teenage days competing in Australia.
Rusty Facebook fans were treated to a live show from the red carpet, hosted by Rusty surfer Damien Fahrenfort, who welcomed and interviewed VIPs with his South African humor and fresh energy.  Fahrenfort also served as the official emcee inside the theatre, offering up free Rusty gear and, along with Kerr, awarding one young lucky surfer from Huntington Beach with a custom Rusty surfboard. Following the showing, VIP guests headed over to Blue Beet in Newport for an afterparty with cover band, Flock of 80s.
Rusty will be hosting additional showings of Kerrazy Kronicles at surf shops and other retailers around the county.  Please visit www.rusty.com for more details.