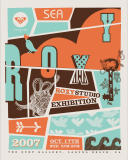 The exhibition will showcase work by Roxy studio artists Jenny Bowers, Jeff Canham, Harry Daily, Julie Goldstein, Greg Lamarche, Rob Ryan, Rachell Sumpter and Kate Sutton; Live music by The Submarines and the PawnShop kings

Legendary surf brand Roxy once again will celebrate the creative surf lifestyle that has long inspired the work of fine artists at the second installation of the
Roxy Studio Exhibition
on
Wednesday
,
October 17
. The special evening will be held at the
Surf Gallery in Laguna Beach
and is the first appearance in Orange County following the spectacular summer show in Venice Beach. The night will feature more than 30 original pieces from world-renowned Roxy Studio artists and live music by special guests The Submarines and the PawnShop kings.
The Surf Gallery sits on Pacific Coast Highway, yards away from famed surf spot Thalia Street and the picturesque inspirations of sand and sea. The works of Roxy Studio artists Jenny Bowers (London), Jeff Canham (San Francisco), Harry Daily (San Diego), Julie Goldstein (Long Beach Island), Greg Lamarche (New York), Rob Ryan (London), Rachell Sumpter (San Francisco) and Kate Sutton (London) will be on display through November 1, 2007.
The event is open to the public with drinks and hors d'oeuvres provided. Original works and limited-edition prints will be available for purchase. Roxy team riders, longboarder Kassia Meador, snowboarder Torah Bright and freeskier Sarah Burke will join the Roxy staff to celebrate an evening of art and surf culture.
The Roxy Studio Exhibition
is from
5:00 p.m. to 9:00 p.m.
The Surf Gallery is located at
911 S. Coast Hwy., Laguna Beach, CA 92651
(
Google map
).