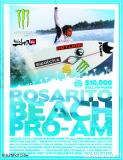 Rosarito Beach Pro Am Adds Quiksilver Mexico and Swatch as Sponsors
July 28, 2009- The City of Rosarito and FDt Marketing, organizers of the Rosarito Beach Pro-Am are excited to announce that two new sponsors have been added to the Rosarito Beach Pro-Am presented by Monster Energy. FDt, with the help from Monster Energy, has added Quiksilver Mexico and Swatch Watch as official sponsors to the Rosarito Pro Am.
"We have made some large strides in the last week or so with this contest, and feel that with the new additions of Quiksilver and Swatch will not only help with the branding and promotions of this year's event, but helps the idea that this could be an annual event for the City of Rosarito. I can't express enough how excited we are that these two companies have decided to join Monster on the partnership of this event", Jeff Stoner, Event Director.
The event which is set for August 22-23, 2009 in Rosarito Beach at the Rosarito Pier is open to all Professional and Amateur surfers. Registration is available on www.active.com (keyword: Rosarito Beach), or by contacting FDt Marketing directly at 858.272.2191, or events@fdtmarketing.com
For more information on the Rosarito Beach Pro-Am presented by Monster Energy please visit www.rosarito.org/surf