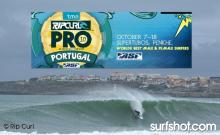 CLICK TO WATCH THE LIVE WEBCAST.

http://live.ripcurl.com/PortugalLiveGB.html

If you go to watch the webcast and the event is "ON HOLD" or "OFF" for the day make sure to check back.

In 2010, the Rip Curl Pro – 5th event on the women's circuit (of 9), and the 8th event of the men's Tour (of 10) – will again take place in the mythical Portuguese locale: Supertubos. The contest will run from the 7th to the 18th of October for the second year in a row.

ABOUT THE WAVES

Supertubos
Supertubos (or Supertubes) is a world class surf break known for its perfectly barreling waves. It is most famous for its heaving, barreling lefts, but it can also provide epic rights. Supertubos was acknowledged by Surfer magazine as being one of the best waves in the world.
Best swell direction:
South-West
Best wind direction:
North-East

Belgas
Belgas is a sprawling beach comprised of many surfable peaks. Though it is predominantly a beachbreak sculpted by a multitude of sandbars, there are a few rocks scattered along the bottom.
Best swell direction:
North
Best wind direction:
South, South-East
Molhe Leste
On its best days, the right-hand wedge along the breakwall of Molhe Leste can rival the world-class peaks of its neighbor, Supertubos. It is a hollow, fast and powerful beachbreak.

Best swell direction: South-West
Best wind direction: East, North-East