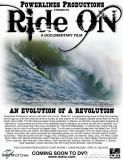 Powerlines Productions returns with their new movie, "Ride On", a progressive big-wave surfing documentary that brings you into the minds and lives of surfers as they search for the largest rideable waves the Pacific Ocean has to offer.

"Ride On" documents the arrival of the deadliest swell in decades, as surfers are left with a decision: surf Mavericks, with waves that many have compared to "100-Foot Wednesday", or Pescadero Point (aka Ghost Tree), a spot that now faces a ban on tow-in surfing on its biggest days. The film also includes footage from the fabled Nov. 29-30 swell that elite surfers are calling "the best paddle swell at Mavericks."
Also included in this non-stop drama: A trip to Alaska as surfers ride glacier produced waves, beach-break perfection in Mexico, the historic monster swell at Puerto Escondido and the worst wipeout ever witnessed at Mavericks.

Featured surfers include: Twiggy, Flea, Skindog Collins, Ion Banner, Greg Long, Tim West, Carlos Burle, Peter Mel, Garrett McNamara, Keali'i Mamala, Colin Dwyer, Tyler Fox, Mark Healey, Dominic Spinardi, Chris Loeswick, Ben Andrews, Alex Martins, Zach Wormhoudt, Anthony Tashnick, Dr. Benjamin Z. Darrow, Ryan Seelbach, Lance Harriman, Jesse Kinsella, Deputy Harbor Master Cary Smith, Shane Desmond, Travis Payne, Alistair Craft, Derek Dunfee, Nathan Fletcher, Dave Wassel, Ben Wilkinson and The Flying Smith Brothers, Tyler & Russell.

THIS FILM WAS PRODUCED BY CURT MYERS // CHRIS WILSON // ERIC W. NELSON.

"An awe-inspiring documentary about big-wave surfing." -Greg Noll
Photo: Tony Canadas
available at www.mavz.com