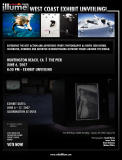 First of its Kind International Photography Exhibition Comes Ashore This June
This winter, the first-ever international action and adventure sports photography competition – Red Bull Illume Image Quest – unveiled 50 of the best raw moments in action and adventure sports in a first of its kind outdoor photography exhibition on Aspen Mountain in Colorado. During a special opening ceremony exhibition, judges and heroes of the sport selected the top 10 category winners, unveiled the Illume Image of the Year, and kicked-off the worldwide tour of images. This June, the larger-than-life exhibition will travel to Huntington Beach, moving from snow to sand, for a spectacular public surfside "illumination" of indescribable proportions.
On June 6-17, a breathtaking spectacle of eight-foot glass and metal cubes will light up the sands of Huntington Beach each evening after sunset to reveal the very best of action sports photography. A special public opening of the extraordinary outdoor exhibition will take place at dusk on June 6, drawing spectators through a larger-than-life circular gallery of illuminated photographic expressions, while during the day the mirrored cubes will offer seaside views of Huntington Beach.

Contest judge Anne Telford of Communication Arts offers viewers a preview of what they can expect, from everyday Joe's to art aficionados, when the exhibition hits the sands of Huntington Beach this summer. Telford reflects on her experience in Aspen where action sports photography came to life: "This is the most incredible collection I have ever seen assembled in one place and it is one of the most phenomenal experiences I have had in my 17 years of photo editing."

The Red Bull Illume winners were selected from over 7,200 submissions from over 90 countries by esteemed photo editors and image experts from photography, action sports and lifestyle magazines from around the world. Judges selected the top 50 images (five finalist images in ten image categories) for the traveling exhibition, honoring photographers that evoke the following qualities in their images: commitment, passion,
risk, technical superiority, composition, creativity, impact, artistic flair, and overall excellence.

Pete Taras from Transworld SURF stood on the Illume judging panel and remarked on the wealth of industry talent tied to Illume at the Aspen opening, "It's overwhelming…by far the biggest bonding meeting of the photographic minds I have ever witnessed."


Categories Category Winners

Lifestyle Desré Pickers – South Africa
Sequence David Blazek - Czech Republic
Close-Up Dawn Kish - Flagstaff, AZ
Energy Thomas Stöckli - Switzerland
Spirit Brian Bielmann - Haleiwa, HI
Playground Wojtek Antonow - Poland
Wings Fred Mortagne - France
New Creativity Jimmy Wilson - Melbourne Beach, FL
Experimental Tim McKenna - Australia
Illumination Gian Paul Lozza -Switzerland

Fred Mortagne of France achieved the honor of Illume Image of the Year for his stylized skateboarding image that has a composition beyond expression and wowed judges. He is commissioned for the photo shoot of a lifetime with a Red Bull athlete of choice, anywhere in the world.

Following the exhibition in Huntington Beach, the top 50 photographs will travel next to Portland, Oregon on August 2-12 and to various outdoor venues across the U.S. and Canada in 2007, and to unique international destinations in 2008.