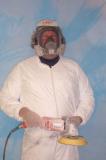 Randy "Orca" Williams 46 years old died unexpectedly Wednesday April 18th while Mt Biking with friends in Mission Trails Regional Park. Randy is legendary Surfboard manufacturer and has been working in the industry for well over 30 years. Randy has worked for such known industry names as Steve Seeabold, John Derwood (AKA Juan Grande), Pacific Wave Craft, Joe Roper, TNT Surfboards,John Holley (AKA Seagull), Rusty, Elecrtic Duck and the whole Canyon Crew . He will be greatly missed by not only those of us who knew him but also by the industry whom he dedicated much of his life too.
To all our friends and family here is the set information for Randy Williams "Orca":
El Cajon Wesleyan Church
1500 E. Lexington Ave.
El Cajon, CA
Wednesday, April 25, 2007 - 3:00 pm
Bring favorite pictures to share, we will have a blank poster board and provide double face tape to display.
Interment following service at:
Singing Hills Memorial Park
2800 Dehesa Road.
El Cajon, CA
Various scatterings at dunes, beach, and bike trail to be announced at later dates.
In lieu of flowers please make donations for our children to the "Randall J. Williams Memorial Fund" at any San Diego County Credit Union (Account number 0003053475).