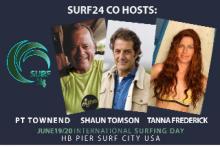 WHO: World champion surfers Shaun Tomson and Peter 'PT' Townend join
Project Save Our Surf founder/actress Tanna Frederick when they co-
host the Third Annual Project SOS: SURF 24, a 24-hour surfathon to
benefit Surfrider Foundation, Heal The Bay and Inside the Outdoors.

Celebrity surfers include Sam Trammell (True Blood), Jesse Spencer (House),
Sean Patrick Flanery (Boondock Saints), Chad Lowe (24), Zoe Bell (Grindhouse),
Ingo Rademacher (General Hospital), Michael Munoz
(Amazing Race), Eric Balfour (24), Brandon Boyd
(Incubus), David Chokachi (Beyond the Break), Gregory Harrison
(Trapper John, MD), Chris Bruno (Dead Zone), Pat Parnell (Fuel
TV's The Daily Habit)

Surf luminaries participating include James Pribram, Matt Beacham,
Mary Osborne, Angie Reno and Jon Rose (more names to be added.)

WHAT: Recreational surfers will be joined by pro- surfers and celebrities from TV
and film as they compete to put up the best wave each hour from 12 noon
Saturday, June 19th to 12 noon Sunday, June 20th. One surfer will receive
the "SURF 24 Surfer of the Year" trophy. The "Celebrity Hour" starts at 1 pm.

On June 19th, opening ceremonies begin at 11:30 am with beach daytime
events for the whole family including live music from 12:30 pm to 8:30 pm
(Human Lab, ACIDIC and Common Sense), mural painting with Joanne
"Art Miles" Tawfilis, guest speakers including Ed Begley Jr., food and
beverage, volleyball, yoga and eco-friendly vendors.

At 8:30 pm a surf-film program on the Pier Plaza will feature special
appearances from the creators of "The Cove." At 10:30 pm, registered
surfers are invited to stay for screening on the sand of "North Shore" and
other surf-related films.

On June 20th, there will be a beach breakfast at 8 am (by donation), silent and
live auctions and the presentation of the "Friends of the Ocean" award
ceremony prior to closing ceremonies.


WHEN: 11am on Saturday, June 19th - 12 noon on Sunday, June 20th

WHERE: Southside Huntington Beach Pier, Huntington Beach, CA

WHY: Project SOS: SURF 24 coincides with International Surfing, which was
established by Surfrider Foundation and Surfing Magazine to celebrate the sport
of surfing and to promote clean water and clean ocean.


ABOUT: Heal The Bay is an environmental non-profit dedicated to making southern
California's coastal waters and watersheds, including Santa Monica Bay, safe,
healthy and clean. They use research, education, community action and advocacy
to pursue their mission.
www.healthebay.org

Surfrider Foundation is a non-profit environmental organization dedicated to
the protection and enjoyment of the world's oceans, waves and beaches for all
people, through conservation, activism, research and education.
www.surfrider.org

Inside the Outdoors is a unique and hands-on environmental education program
administered by the Orange County Department of Education whose mission is to
empower students, teachers, parents, and the community to explore natural areas and
expand their knowledge.
www.ito.ocde.us