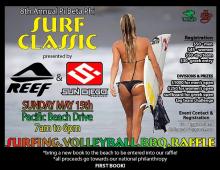 Sunday May 15th, at Pacific Beach (off of Pacific Beach Drive) we will be holding our 8th Annual Surf Classic presented by Reef and Sun Diego! We have great sponsors like iTan, Dragon, Vestal, Red Bull, Arbor, Jedidiah, SIMR Surfboards, Isle Surfboards, Apple, Rusty, Knockaround Sunglasses, Electric Sunglasses, and many many more!
All proceeds are going directly to First Book, an award winning organization that helps promote literacy by providing books and programs to children in need. This is an amazing cause and last year we were able to donate over $16,000! We can't do it without the help of the local Southern California community, and with your help this year we know we can donate so much more!
The day long event consists of a 4 division surf contest, an open volleyball tournament, live djs and a huge raffle with prizes like: a 5 day 4 night stay in Hawaii, surfboards, skateboards, bikinis, watches, sunglasses, gift cards and much more!
So, what more could you want? 100 Pi Phi girls in bikinis, surfing, a HUGE raffle, music, food and enjoying the beach with all your friends! We hope to see you at the beach!