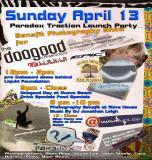 Celebrating the launch of the most technologically advanced traction
this planet has ever seen, Paradox is throwin' a party in Mission
Beach on April 13th. (paradoxgrip.com)

Come check out the quantum nano technology, Power/Balance, that is
exclusive to Paradox at Liquid Foundation Surf Shop from 11-12 and get
this nano-tech for free.(powerbalance.net)

12-2pm Watch world wakesurf champ Chase Hazen on Mission Bay between
San Rafael Ct. and Riveria St.

Wakesurfing is a new sport and Epic Boats is leading the charge on
wakesurf specific boat design and will be providing the boat for this
event. (epicboats.com)(wakesurfmag.com)

If your a little sleepy from the previous evenings activities and
missed the earlier events, come to lunch at Guava Beach and a portion
of your bill will be donated to The Doogood Conservatory, an
international charity that provides boardsports equipment to the
under-privileged in 8 states and 4 countries. (guava-beach.com)
(doogood.org)

Photography Benefit for The Doogood Conservatory at Wavehouse from 8-10pm
feauturing the works of Jon Steele, Cocophoto, Blair Alley, Jason Lee
and the art of Pinky and Blair Rusin. Music will be provided by DJ
Jonathon Leigh (wavehouse.com)

3 dollar PBR's and 3 dollar coconut margaritas

10-close Paradox Launch Party at Guava.....drink and food
specials...surf and skate videos playing, photography slideshow,
limited edition art raffle to support The Doogood Conservatory and its
mission to help boarding save lives.