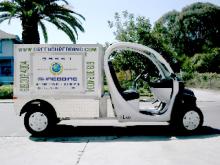 Paper Shredding Goes Green in San Diego!
San Diego, CA – April 17, 2008 – Green Shredding Corporation announced today the opening of a 100% green shredding warehouse in downtown San Diego. This unique concept is earth friendly from start to finish. First, the sensitive documents are collected and securely transported by specially designed, battery-powered, zero-emissions Electric Box Trucks. Next they arrive at the high-efficiency, low power consuming shredding warehouse where all the paper waste is recycled and the non-recyclable by-product (3-ring binders, binder clips, file boxes, etc…) is donated to local area schools or offered for reuse to the general public free of charge.
The trucks used are not only super eco-friendly, but also parking-friendly, traffic-friendly, and practical. They can park in normal parking spaces (instead of parking in the middle of the street or taking up multiple spaces) and can even fit easily into parking garages. These little green machines also accelerate and brake quickly and fit through narrow spaces more so than a normal car, as opposed to the typical delivery truck that strains to get up to speed, brakes early and often, and contributes to an over-congested downtown. The practical side is that the payload capacity per trip is an astonishing 1200 lbs since the warehouse is less than 1.5 miles from the center of downtown. This means that these little buggers can transport up to 14,000 lbs in one shift!
The shredding warehouse was designed from the ground up to use as little power as possible. In lieu of a conveyor belt, a platform with a ramp was built for the industrial strength shredder so a small amount of muscle and gravity does the work instead of electricity. The shredder itself uses a much more efficient three-phase motor instead of employing a single-phase motor. Even the lights, which are rarely needed because natural light is abundant in San Diego, are all florescent.
Recycling is an important part of any paper shredding company's business plan because, frankly, they make money from it. Where Green Shredding stands apart is that they also offer a reuse program to the general public, and they've even teamed up with The Barrio Station to donate all reusable binders to local area children.
"I like to say that we are Mother Nature's Favorite Shredder," says Chris Reynolds, owner and operator of San Diego based Green Shredding. For more information about Green Shredding, call 619.302.4004 or visit http://www.greenshredding.com/.