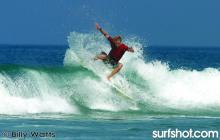 D-Street, Encinitas- Many of San Diego's most talented young surfers competed in the 2nd event of The Amateur's Cup series presented by the National Surf League and ICON management. It was a clash between South County and North County with a very talented Ocean Beach team visiting hometown team Encinitas and its own crew of local rippers. Each team was structured with two surfers over 20 years old, one grom under 14 years old, and seven kids between the ages of 14 and 20.
Encinitas started the Game, making the best of the small and inconsistent wave conditions. Ryan Burch picked off the best wave of the quarter, threw a couple huge sprays off the top, and then boosted a
frontside air to finish, posting the high score of the day for Encinitas with a six.
O.B. came back strong with outstanding surfing from team captain, Layne Harrison. But it was the young rising star from O.B., Jordan Gaudet, who stepped it up in the bottom of the second quarter.
Jordan posted the highest score of the Game, a 6.5, with some impressive vertical snaps off his backhand. The first half ended with O.B. ahead by one point; O.B. 31, Encinitas 30.
The third quarter started slow with Encinitas not getting the waves. JC Toro and Evan Luth were making the best of the few waves that did come, each scoring fours to keep their team in the Game.
O.B. also had a slow third quarter with long lulls in the sets. Nate Hink, surfing consistent all day, had a high score of four for the visitors.
It all came down to the fourth quarter, and Encinitas got a flurry of waves to begin. Underground legend Jorma Beckstrom, surfing a quad fin S-core, put on an exhibition of clean, powerful surfing. Thanks
to some solid surfing from other local standouts, Scotty Hammonds and Eric Snortum, Encinitas had their best quarter of the day.
O.B., needing only 15 points to tie the Game, seemed fired up and confident. They had their power lineup in the water including Rodger Eales, Julian Mullins and Jordan Gaudet. The quarter started strong before Mother Nature decided to shut down. O.B. failed to better their score by .5 with over four minutes to surf. On the whole, it was a highly competitive Game with impressive surfing displayed by both teams. The final score was in favor of Encinitas; Encinitas 61, O.B. 60.5.