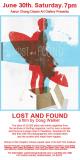 "Lost & Found", a famous surf film by Doug Walker, will be screened outdoors in a free event open to the public Saturday, June 30, from 7 to 9 p.m. at 415 South Cedros Ave. in Solana Beach, Calif. The PG-rated film tells the story of 30,000 black and white negatives from the archives of Surfing Magazine, lost for more than a decade and found at a swap meet in Pasadena, Calif.
Winner of the People's Choice Award: New York Surf Film Festival, "Lost & Found" tells the story of the negatives, the photographers and surfers, reuniting them for the first time. Aaron Chang, owner of the Aaron Chang Ocean Art Gallery, is one of the photographers featured in the film and host of the screening, which is taking place across the street from his gallery in Solana Beach. Those planning to attend are encouraged to bring beach chairs and blankets. Lockwood Table Café is catering the event,with proceeds from concessions going to Anna's Second Wind, a non-profit founded to raise $30,000 for Anna Young to receive a double lung transplant. Prints from the film will be on display and available for viewing at the Aaron Chang Ocean Art Gallery just before the film is screened.
The film features Aaron Chang, Bob Barbour, Gerry Lopez, Jock Sutherland, Rory Russell and Buttons Kaluhiokalani.