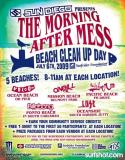 Help Keep Our Beaches Beautiful: Local Surfrider Foundation Chapter and Sun Diego Boardshops Seek Countywide Public Help on Monday July 6 with the "Morning After Mess Cleanup Day" Following Independence Day Weekend Celebrations
July 2, 2008 – SAN DIEGO – The Fourth of July is typically San Diego's busiest beach day of the year with hundreds of thousands flocking to the shoreline to enjoy a day of sand, sun, and fun. Unfortunately, anyone who's seen the aftermath also knows that in the past the holiday can produce more trash and litter of any other beach day. Last year saw a decline in beach litter for various reasons, what will this year hold?
The Surfrider Foundation San Diego Chapter will find out on Monday. This year, since the 4th is on a Saturday we are hosting the cleanup day on Monday the 6th to cover the entire weekend. In cooperation with Sun Diego Boardshops, Surfrider invites the public out to this year's "Morning After Mess Cleanup Day" on Monday, July 6 from 8 a.m. to 11 a.m.. The Morning After Mess Cleanup Day will organize much needed volunteers to assist workers picking up the trash left at five San Diego County beaches from Oceanside to Ocean Beach over the Fourth of July holiday weekend.
San Diego City Council member Kevin Faulconer will be available to speak to the media at the Mission Beach (Belmont Park) cleanup site at 8:00 a.m. on Monday.
Sun Diego Boardshops returns this year as a generous sponsor of the event, pitching in product giveaways to volunteers that help collect the most trash.
Volunteers can help at any of the following beach cleanup locations starting at 8 a.m. on July 6:
Ocean Beach Pier,
Belmont Park in Mission Beach,
the foot of Pacific Beach Drive in Pacific Beach,
South Carlsbad State Beach (Ponto) and
Oceanside South Harbor Jetty.
50 participants at each location will receive a free organic cotton T-shirt and another 50 will receive free concert tickets! All volunteers collecting trash will be eligible for gift packs that will be raffled off at the event. Raffle gift pack prizes will be provided by Billabong, Lost, O'Neill, Volcom, and Quiksilver. Surfrider Foundation will provide all necessary equipment, including gloves, trash bags, grabbers and hand sanitizer. All volunteers need to sign a liability waiver and people under 18 years old need a parent's or guardian's signature to participate.
Surfrider encourages everyone to take an active role in preventing the trashing of San Diego's beaches this July Fourth holiday weekend. A big goal for this big holiday weekend is to prevent litter at our local beaches and bays. Avoid single use items such as styrofoam coolers and plastic water bottles. Bring reusable items to the beach and be sure to recycle or bin anything you have to throw away. Surfrider is happy to team up with other local non-profit groups and city agencies to form the San Diego Clean Beach Coalition to provide more trash bins during this busy weekend and raise awareness about the importance of preventing litter.