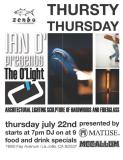 The Zenbu Lounge will be hosting its first ever art display showing "The O Light" by Ian O' along with "The Spoon" surfboards by Jeff McCallum. Matuse wetsuits will also help present the event. Everyone is welcome and there will be food and drink specials going on all night long. If you cannot make it on Thursday for the opening party, the art and boards will be on display through Saturday.

Thursday: Opening Party
7:00 pm until 1:00 am - DJ goes on at 9:00 pm Food and Drink specials all night.

Friday and Saturday
7:00 pm until close.

Zenbu
7660 Fay Avenue
La Jolla, CA 92037