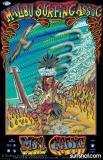 The MSA Classic is the premier competition in the Coalition of Surfing Clubs annual series. This club-level, invitational contest will be held at Surfrider Beach, Malibu from September 12-13, 2009. More than 275 invited athletes representing elite surfing clubs from California, Hawaii, the East Coast, Japan, and Australia will come together to compete at First Point, Malibu, one of surfing's legendary waves.
"Other sports have Yankee Stadium, Churchill Downs, Old Trafford, Madison Square Garden, and Camp 4, Yosemite. All fine. Surfing has their spots, too, and one of them is First Point, Malibu. So come to Malibu. Hang out with us and take it all in. Witness the history and walk among the legends." said Michael Blum, MSA President.
in 2008, the MSA Classic was held under blue skies with a steady, 2-4' swell with bigger sets during throughout the finals: perfect Malibu. The MSA's Competition Team reclaimed the team crown with five, first-place results, including: Chad Marshall (Men's 20-29), Kassia Meador (Women 18-34), and Mario Quiros (Grand Masters Men 30-59). Other superb performances were turned in by: Julie Cox (MSA), Mark Wolfinger (Windansea Surf Club), and 7-year old Tiare Thompson (Windansea Surf Club).
Events during the MSA Classic are free of charge and open to the public. Early rounds begin Saturday, September 12th and run through Sunday, September 13th.