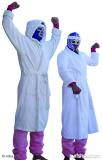 Inaugural event Lucha De Surf Uno was held Saturday, September 9 at Stone Steps Beach in Encinitas. The unconventional, and at times crazy, event was a hybrid of Mexican wrestling and surfing combined into one. Lucha utilized a two-on-two format where snaking and takedowns were allowed, and Mexican wrestling masks were mandatory. This unique format provided great entertainment to everyone who was involved. With summer winding down, everyone coming back from their Mex. trips, and Halloween coming up, this event was the perfect way to wind down the summer.
The unique format drew a colorful cast of Encinitas locals ranging from pro snowboarder Gabe Taylor to J.P. St. Pierre from Moonlight Glassing, to several local firemen. There was never a dull moment as most competitors wore team uniforms and surfed with passion.
The event, put on by local fireman and avid surfer Scott Storrs, came about simply to alleviate some of that end of summer boredom. "Most of the boys in the contest have a strong love for Mexican culture, so we thought it would be great to take it to the water. A chance to put your friend in a contest and then take him down is nice too," Storrs said.
The highlight of the day was the Repercharge Royal Rumble in which all previously eliminated surfers got a second chance to get back into the contest. It was an all out free for all as 15 surfers hit the water at once surfing an expression session format complete with crazy takedowns, snakes and violence.
In the end, long time Seaside Reef kingpin Larry Gargas received honorable mention for best sportsman for being the oldest competitor in the water. Wes Nelson and Alex Poff also received honorable mention for best takedown and best maneuver. The overall winners of the contest were Scott Storrs and Pete Goddard as they consistently racked up points for their surfing, takedowns and snakes. Longtime Suckouts locals Oly Norris and Dany Caldwell followed Storrs and Goddard with second place.
With consistent takedowns, snakes and two-to-four-foot waves, the inaugural event was deemed a true success. It proved a fun day for all, as violence, comedy, and fun ensued in the water and on land.