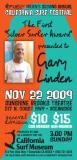 Sunday, November 22, 2009
3:00 PM Brooks Theater, Oceanside


The California Surf Museum will be honoring long-time local surfer and surfboard shaper Gary Linden at the Second Annual California Surf Festival with presentation of its first "Silver Surfer Award." On Sunday afternoon at the Sunshine Brooks Theater in Oceanside, a film on Gary's life, "Shaping A Life" by Denise Galvo, will be screened, along with "El Día Despues" showing Gary charging on big waves in Chile.

Following will be a presentation by author and former editor of Surfer Magazine, Paul Holmes, founder of Transworld Media Larry Balma, and others who will highlight Gary's illustrious life. Linden, a well-known big wave rider, surfboard shaper, surf contest coordinator, and well-respected throughout the world for his knowledge on big wave surfing and shaping, has been in business in Oceanside for over 30 years. It has been estimated that he has shaped over 30,000 boards to date.

Linden has been a multifaceted part of the surf community and his down-to-earth style has created many fans not only in San Diego but all over the world. Gary is an important part of nearly every big wave contest in the world as a promoter, coordinator and/or judge. To this day, Gary can be seen taking charge of a 30 to 40 foot wave at Todos Santos off of Ensenada, Baja California, leaving surfers half his age in awe of his style, bravery and command as a big wave surfer. It is an honor for the California Surf Festival to be able to present Gary Linden with its first Silver Surfer Award.